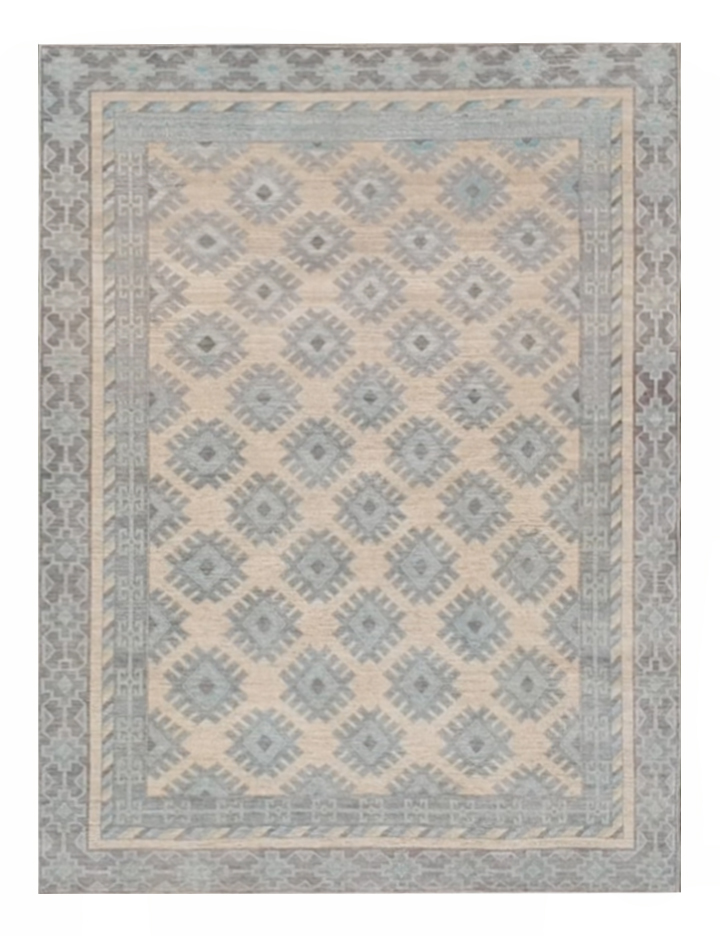 Emergence in Smoke
With this rug in our "Origins" collection, we wanted to showcase Afghan roots with an emerging, new color way. This rug utilizes the neutrality of a gray and taupe color palette. With our Origins series, we challenge you to embrace new growth and let the new you emerge!
The Emergence rug is inspired by one of Afghanistan's most ancient motif, the burdock. Traditionally known to symbolize protection and abundance, this motif was created with the belief that it's presence would guard the home's family, marriage and animals.
Made with fine quality, long staple Ghazni wool, this rug is hand-knotted using the Turkish Knot technique (see more about our process) resulting in a beautiful abrash pattern that gives our rugs an added visual texture. Each rug yields a luxurious hand, comfortable to walk and sit on.

Color:Gray, Taupe & Light Blue
Rug Style: Hand-Knotted
Pile height:Ranges from 0.3 in to 0.4 in (0.75 cm to 1 cm)
Material & Technique:Turkish knots are woven from hand-spun, Ghazni wool. Foundation yarns are cotton.
Average knots per square inch:83 knots
Rug pad recommended.
Expect variations: As each knot is hand-knotted from natural wool, expect slight variations with approximate carpets sizes. Though some colors and abrash designs may vary slightly in our rugs, we try to do our best to represent the authenticity of our rugs.