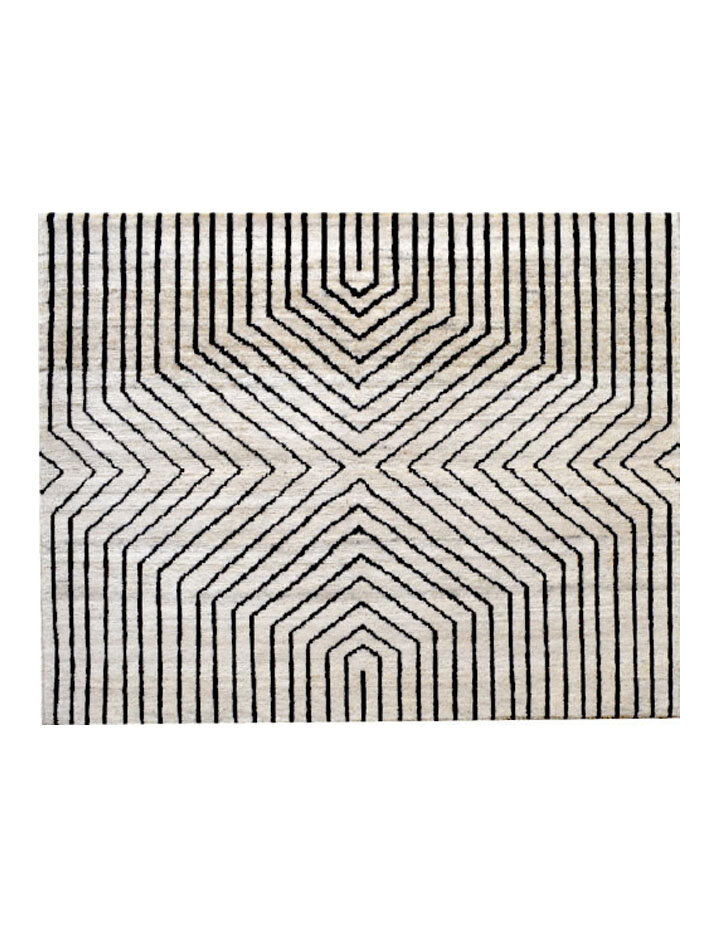 Nomad in Midnight
Coming back soon! Check back in mid-November.
Finding innovation in the raw, undyed product by examining the array of colors found in a single sheep's coat, this Nomad rug came to life. The Nomad rug pays tribute to the primitive landscape, looking beyond initial observations and finding intricacy and beauty in form, function and hues.
Our Nomad collection evokes an adventurous spirit and leans towards a fresh, minimalist approach. It embodies freedom in design and style, as most any furniture collections can be paired with this rug. Inspired by the more modern, gabbeh designs of Central Asia, these rugs are defined by their use of geometrical shapes and large fields of color. We love this natural ivory and deep chocolate pairing. Doorway rugs are available in this style and hallway runners are coming soon. Make sure to add this rug to your home design to really make your style pop!
Made with fine quality, long staple Ghazni wool, this rug is hand-knotted using the Turkish Knot technique (see more about our process) resulting in a beautiful abrash pattern that gives our rugs an added visual texture. Each rug yields a luxurious hand and is comfortable to walk or sit on.
Color: Ivory & Deep Chocolate
Rug Style: Hand-Knotted
Size: 2ft x 3ft
Pile height:Ranges from 0.3 in to 0.4 in (0.75 cm to 1 cm)
Material & Technique:Turkish knots are woven from hand-spun, Ghazni wool. Foundation yarns are cotton.
Average knots per square inch: 103 knots
Rug pad recommended.
Expect variations: As each knot is hand-knotted from natural wool, expect slight variations with approximate carpets sizes. Though some colors and abrash designs may vary slightly in our rugs, we try to do our best to represent the authenticity of our rugs.
sold out