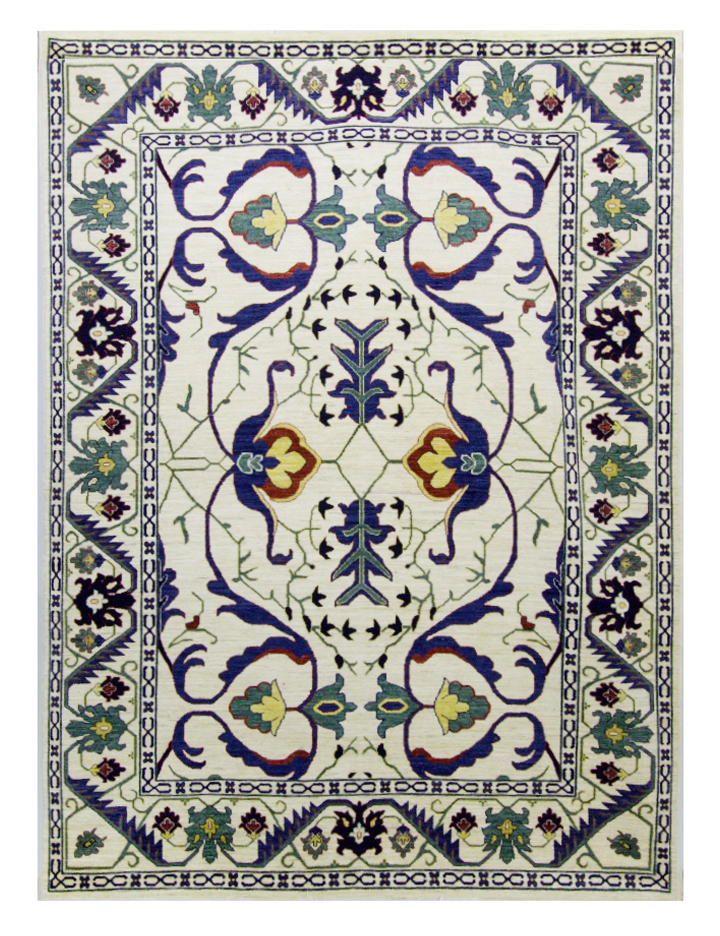 Palmette
With the influence of diverse people groups that live in Afghanistan, the organic floral patterns of Persian design are incorporated in this rug. Navy's, golds and mellow greens complement this rug's natural design. This rug is perfect for capturing a quiet moment while letting your eyes follow the movement and organic pattern of these vines.

Made with fine quality, long staple Ghazni wool, this rug is hand-knotted using the Turkish Knot technique (see more about our process) resulting in a beautiful abrash pattern that gives our rugs an added visual texture. Each rug yields a luxurious hand, comfortable to walk and sit on.

Color: Natural Cream
Size: 8ft x 10ft
Rug Style: Hand-Knotted
Pile height: Ranges from 0.3 in to 0.4 in (0.75 cm to 1 cm)
Material & Technique: Turkish knots are woven from hand-spun, Ghazni wool. Foundation yarns are cotton.
Average knots per square inch: 83 knots
Rug pad recommended.


Expect variations: As each knot is hand-knotted from natural wool, expect slight variations with approximate carpets sizes. Though some colors and abrash designs may vary slightly in our rugs, we try to do our best to represent the authenticity of our rugs.