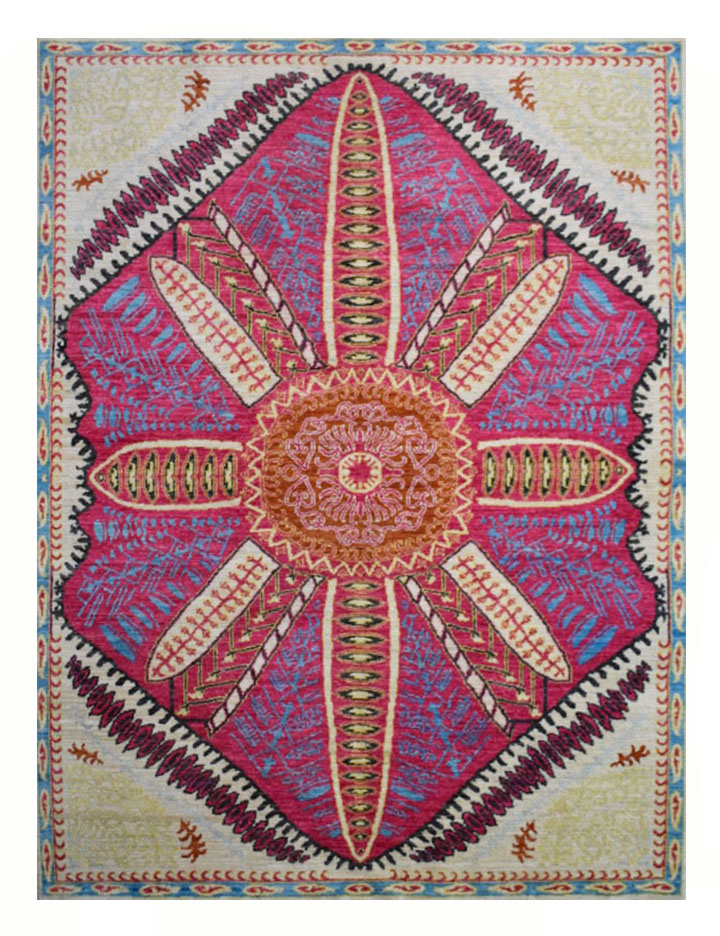 Pari In Cerise
Coming Soon!
This rug is a modern "sketch"of the traditional suzani motif. This traditional northern Afghan and Uzbek motif comes from the word "suzan" meaning needle, as many of these floral motifs were originally hand-embroidered onto hand-woven textiles. This rug embodies a mixture of free style drafts of an ancient, time-honored motif.
The Cerise collection represents the playfulness and joy found in the day to day life of our village in Afghanistan. From the bright colors that our weavers wear to the bright smiles on their faces, these rugs will surely bring happiness into your home as well. The rich cerise pinks, lemon yellows and cyan blues are balanced well with black and white contrast colors. We suggest that you have fun layering with this rug!
Made with fine quality, long staple Ghazni wool, this rug is hand-knotted using the Turkish Knot technique (see more about our process) resulting in a beautiful abrash pattern that gives our rugs an added visual texture. Each rug yields a luxurious hand, and is comfortable to walk or sit on.
Color: Cerise, Cyan & Lemon Yellows
Rug Style: Hand-Knotted
Size: 5ft x 6.5ft
Pile height: Ranges from 0.3 in to 0.4 in (0.75 cm to 1 cm)
Material & Technique: Persian knots are woven from hand-spun, Ghazni wool. Foundation yarns are cotton.
Average knots per square inch: 103 knots
Rug pad recommended.
Expect variations: As each knot is hand-knotted from natural wool, expect slight variations with approximate carpets sizes. Though some colors and abrash designs may vary slightly in our rugs, we try to do our best to represent the authenticity of our rugs.
sold out